Roast chicken thighs with lemon, smoked paprika and green olives
I love this simple chicken dish and cook variations of it all the time, as it is a very successful way to cook chicken pieces, and the resulting smoky and lemony cooking juices are delicious. Just make sure everyone gets a few of the roasted garlic cloves to squeeze into their serving of chicken.
The recipe works well if you want to serve a large group. However, if you do, spread the chicken pieces out on two trays so they have enough room for the skin to brown and crisp.
Marinade (overnight)
serves six
8 skin-on chicken thigh cutlets (With bone)
1 large lemonsliced ​​5mm thick
2–3 whole heads of garlichalved crosswise
18 Sicilian green olives
fresh thyme sprigs or bay sprigsdecorate
For the chicken marinade
100 ml of extra virgin olive oil
2 large garlic clovesvery finely chopped
Zest of 1 large lemonfinely grated
60ml lemon juice
3 bay leaves
1 tablespoon thyme leavescoarsely chopped
1 tablespoon smoked paprika
2 teaspoons teaspoons flaked sea salt
freshly ground black pepperprove
In a large bowl, combine the chicken marinade ingredients and mix well. Add the chicken cutlets, lemon wedges, and garlic, then give them a shake so they are well coated with the marinade. (It's a good idea to put on a pair of prep gloves and do it with your bare hands.)
Cover a container containing the chicken mixture snugly with a compostable plastic bag. Scrape the mixture into the bag, then knot it tight. Seal the container and store in the refrigerator for at least five hours or preferably overnight; flatten the bag well from time to time. (The longer you leave the chicken, the more flavorful it will become. That said, I've made and cooked it almost immediately, and it's still delicious.)
When you are ready to cook the chicken, preheat your oven to 190C.
Line a large shallow baking sheet with aluminum foil, then with parchment paper. Pour the chicken mixture into the tray. Arrange the chicken cutlets in a single layer, skin side up, and arrange the garlic halves and lemon wedges around them. (If you want to place a lemon wedge on each piece of chicken, do so; it looks delicious once it's cooked.) Place the tray in the oven and roast the chicken for about 40 minutes, until golden brown and cooked through but tender. Add the olives in the last five minutes of cooking.
Remove the baking sheet from the oven and transfer everything, including the juices, to a large serving platter. Garnish with thyme or bay sprigs to serve.
Green beans in dill and walnut dressing
I taught this recipe in my first cooking class over 30 years ago, and people still come up to me and tell me how much they love it. The beans are fragrant with the dill and have a delicious crunch from the nuts. They go wonderfully with roast chicken or grilled fish, but I often make them a simple lunch by adding some bocconcini and sliced ​​tomatoes and serving them with some nice bread. You can swap out the walnuts for walnuts if you like, but I find the walnuts give the dressing a smoother, rounder flavor.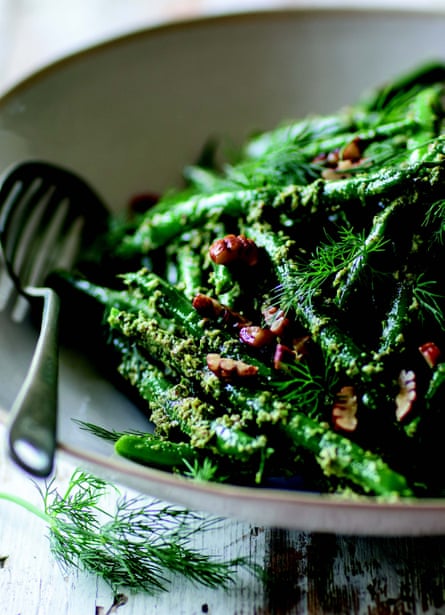 Greens and Versatile: Jeffery's green beans with dill-walnut dressing. Photography: Rodney Weidland
serves six
750 g of tender green beansstems trimmed, tips left
dill sprigsto decorate (optional)
a handful of nutsroasted and sliced, to decorate (optional)
for the dressing
100 g chives, chopped (can be substituted with chives)
big handful flat leaf parsleychopped up
big handful dillchopped up
1½ tablespoon White wine vinegar
120g of walnutslightly toasted
1½ teaspoon sea ​​salt flakesor more to taste
Coarse ground black pepperprove
180–250ml extra virgin olive oil
In a medium saucepan, cook green beans in rapidly simmering salted water until just tender, with a little crunch. (The best way to check is to pull one out and bite into it.) Drain the beans and immediately plunge them into a bowl of ice water to set their color. Let cool, then drain, pat dry with a paper towel or clean kitchen towel, and set aside.
for the dressing: Place the spring onion, parsley, dill, vinegar, walnuts, salt, pepper and 80ml of oil in a blender or food processor and blend together. With the engine running, slowly drizzle in more oil until the mixture is smooth and thick. Taste, adjust seasoning and vinegar to taste.
To assemble: place the green beans in a serving bowl and pour over the dressing (you may not need all of it). Combine so that the beans are well coated with the dressing. They can be served immediately at room temperature or chilled.
They look delicious in a shallow bowl scattered with sprigs of dill and a handful of toasted walnut slices. The beans still taste great the next day, but they lose their vivid color due to the vinegar in the dressing. If you don't use all of the dressing, store leftovers in a tightly closed jar in the fridge; the color will fade over time, but it still tastes great for at least five days.
Pistachio and lime syrup tart with pomegranate seeds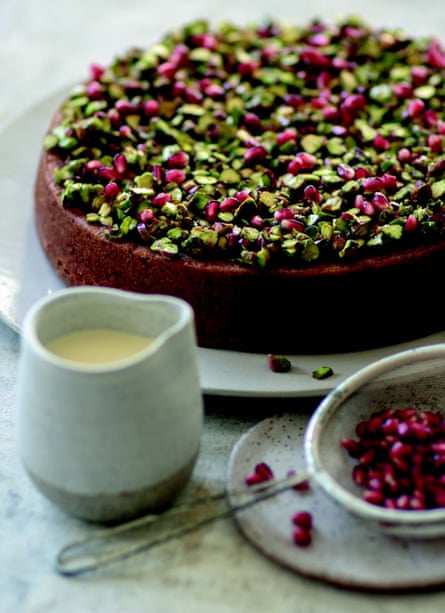 'A beautiful and simple cake' – Jeffery's Pistachio Lime Syrup Cake with Pomegranate Seeds. Photography: Rodney Weidland
The recipe for this delicious cake was given to me by the wonderful food writer and cooking teacher Elise Pascoe, and I have made it over and over since she passed it on to me. The original version was made with lemons; however, as our limes are such abundant suppliers for much of the year, I tend to go with limes. It's a beautiful and simple cake: light, tart and striking with its blanket of pistachios and a pale green hue. In season, the translucent drops of pomegranate look extraordinarily beautiful sprinkled on the cake.
A note about the pistachios for this cake: to grind them, I pulse them in the food processor with a tablespoon of flour from the recipe, since the flour helps prevent them from getting oily and forming a paste. Of course, you have to be careful, since they can go from being perfectly chopped to pasty in the blink of an eye.
Serves six to eight
60 g plain flour
1 teaspoon baking powder
100 g of pistachios, finely ground
Zest of 3 large limesfinely grated
120 g of almond flour
250 g unsalted butterat room temperature
200g powdered sugar
4 × 60g eggsat room temperature
80 g of pomegranate seedsto decorate (optional, see below)
Rich cream or thick Greek-style yogurtserve
For the syrup and topping
90g powdered sugar
125ml fresh lime juice (from about 3 large limes), strained
90g pistachioscoarsely chopped
Preheat your oven to 170C. Butter a 22–24 cm round cake pan, line the bottom with buttered greaseproof paper, then dust the pan with flour.
In a medium bowl, add the flour, baking powder, ground pistachios, lime zest, and almond flour. Beat with a balloon whisk for a minute or so, then set the bowl aside.
Place the butter and sugar in the bowl of an electric mixer (or use an electric hand mixer) and beat on medium speed for about four minutes, stopping and scraping down the sides occasionally, until the mixture looks creamy. Beat in the eggs, one at a time, allowing each egg to incorporate before adding the next. (Don't worry if the mixture looks a bit curdled after you add the last egg, it will come together again when you add the dry ingredients.) Add the flour mixture and beat on low speed until just combined, being careful not to overdo it. mix, or the cake can be a tough. Scrape the batter into the prepared pan and smooth the top.
Bake the cake for 45 to 50 minutes, or until it springs back when you press lightly in the center and insert a thin toothpick into the center and it comes out clean. Transfer to a wire rack and let cool slightly in the pan.
When the cake is warm, make the syrup: Place the sugar and lemon juice in a small saucepan over low heat and stir until the sugar dissolves. Add the chopped pistachios, bring the mixture to a boil, and remove from heat.
Turn the cake onto a serving plate and remove the baking paper. Slowly pour the hot pistachio and lime syrup evenly over the top, then allow the cake to cool completely.
Just before serving, sprinkle with pomegranate seeds (if using). Serve with lightly whipped cream or yogurt.
How to plant pomegranates
This is invariably a messy job, and I find I need to wrap myself in my largest apron to avoid splashing crimson all over my clothes.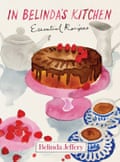 In Belinda's Kitchen by Belinda Jeffery, illustration by Daniel New.
There are several ways to approach this, but the easiest way I know of is to cut the fruit in half, then use your hands to break it into three or four pieces. Fill a large container with cold water, submerge each piece of pomegranate under the water, and use your fingers to scoop out the seeds from the membranes. The seeds will fall to the bottom of the container and the bits of membrane will float to the top. Then all you need to do is drain the water, pat the seeds dry with a kitchen towel, and they are ready to use.
This is an edited excerpt from In Belinda's Kitchen: Essential Recipes by Belinda Jeffery, food photography by Rodney Weidland, illustrations by Daniel New. Available now from Simon & Schuster (RRP $49.99).