Isibani, 9 Knightsbridge Green, London SW1X 7QL. Small plates £9-16, large plates £18-31, desserts £14, wines from £28
Alhaji Suya, 15 Peckham Park Road, London SE15 6TR and Walworth and Greenwich
Experience teaches us that more expensive does not always mean better. Even so, sometimes these things must be tested. Which is why I'm sitting in a Zipcar on a Peckham side street, an aluminum takeaway container on my lap, trying not to make a mess. The aluminum box contains a fold of pink greaseproof paper, in turn filled with soft pastillas of roast beef sprinkled with spices. In the heat of the makeshift paper bag, the dry spice mix has become mushy. No problem. I have more in a clear bag. It is the color of ground rust. I put it on generously trying not to get anything on the seats. Zipcar's members etiquette is a minefield and I'm sure spraying deep orange West African spice blends all over the driver's seat is a big no-no, even if it's in the service of culinary self-education.
I pound the meat with my little wooden fork. My God. It's a joyously bold hit of chili, garlic, and smokiness, all backed by the sweetness of ground peanuts. This is only the second time I've tried theirs, the famous Nigerian way with smoked or grilled beef, lamb and chicken. Other meats are available. I had always suspected it would be my kind of thing. I am a fan of the vivid interplay of meat, fire and spices and was frankly taken aback not to have tried it. It was a serious omission on my part.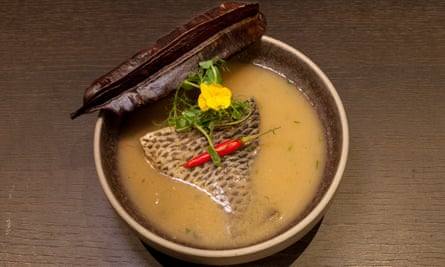 'Place over the bowl, as if happily stranded, is a grilled sea bass': pepper soup. Photograph: Sophia Evans/The Observer
Now I've discovered that I love it, which is a relief. Because when I first tasted hers just a couple of days ago, at the West African restaurant Isibani in posh Knightsbridge, it had been the picture of a pouting disappointed girl. The skewered veal folds served there were dry and tasteless unless added to the pile of spices on the side of the plate, like an overly exuberant guest staying away from others for fear of falling. in disgrace. I frowned at the plate in front of me. The thing is, I was missing reference points. The next day I asked Jimi Famurewa, restaurant critic for the London Evening Standard, whose family is Nigerian, to recommend somewhere to enjoy the good stuff. He sent me to Alhaji Suya, a small Nigerian takeaway group in south-east London, where a hefty slice costs £8.99 compared to £12 at Isibani. Jimi knows what he's talking about. Alhaji Suya is great.
That said, Isibani is also mostly great, if you can forgive his, which some people just won't. But I can, because of the pepper soup. Oh my gosh, the pepper soup. Bathe me in the pepper soup. I'll come back to that in a moment. Isibani, which opened last year in a posh pedestrian walkway next to the Bulgari Hotel, feels like a neighborhood restaurant in a part of London that doesn't have one. If you don't count the masters of the universe who live in the nearby chrome-clad apartment blocks shielded from the world by layers of wealth-encrusted concierge, security, and paranoia. I do not. Still, there's a deep warmth to this small, brightly lit dining room with its blue banquettes and marble floor and waiters eager to help you navigate the unknown.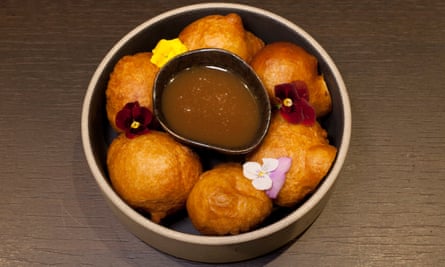 'Served with sweet caramel sauce': puff puff. Photograph: Sophia Evans/The Observer
It's just a very nice place to be. The chef is Victor Okunowo, formerly of Wolseley and Chiltern Firehouse, who also competed on MasterChef: the Professionals a couple of years ago. He and his partners, Anthony Douglas Chuka and Abdul Malik Abubakar, describe the menu as a "love letter" to the West African food they grew up with. When first announced, the menu descriptions suggested that they were intent on making a sophisticated and evolved version of West African classics; the sort of thing that could be perceived as a "Knightsbridge" bellow. But praise be, there's a lot less of evolution now. It's just the bangers.
Which brings me to the pepper soup for the main course and the love letter I now want to write to you. Oh my love, come to me. Feedme. make me whole The name of the dish does the job. It really is a hot pepper soup, the color of the best brown foods, with a punch of unrepentant fire. He grabs you by the neck, drags you and shakes you a little. Lying in the bowl, as if happily stranded, is a grilled croaker, a meaty white-fleshed fish. That meat falls off the bone and sinks to the depths, so you can, well, fish for it again. It's a deeply comforting and utterly irresistible bowl of flavorful joy. I'd come back here just for this, and I wouldn't be bothered by the £25 price tag. What were you waiting for? There's the bloody Bulgari Hotel.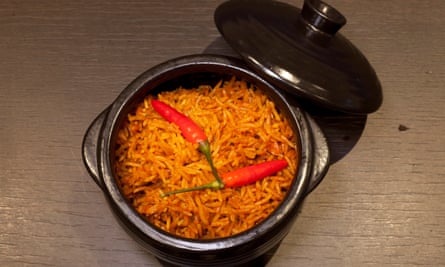 'The base of tomatoes, onions and scotch bonnets are just the beginning': jollof rice. Photograph: Sophia Evans/The Observer
There are also other very good things. Deeply marinated and then grilled, yassa chicken is cooked delicately, with a lovely rich char, and comes with a punchy seasoning. There is also a fun jollof rice. In her brilliant African cookbook, Nigerian-born food writer Lerato Umah-Shaylor writes vividly about the culture wars, especially between Nigeria and Ghana, over who makes the best jollof. Honestly, I'm not getting involved. It is clear that the base of tomatoes, onions and scotch bonnets are just the beginning. As Lerato says, it is a dish that requires practice. Alhaji Suya's very good jollof in Peckham felt like a cozy domestic version; the type of dish with which a father receives his son at home. The Isibani version is more smoky and aromatic.
There's a great dessert plate of puff pastry, those crispy-shelled, golden-fried balls of dough served with a sweet caramel sauce. Only it actually came with the entrees. It's a cultural thing that those entrenched in a salty-sweet order of dishes may find it difficult to understand, although that's pretty arbitrary. I wanted to try the banana tatin, but that was not possible. So instead it was cheesecake and a very light sticky toffee pudding. I suspect you can get plenty of cheesecake and sticky toffee pudding in this corner of Knightsbridge. But they were great so I'm not really complaining. Apart from yours. That, I'm worrying. Still, in the Knightsbridge of stupidly overpriced wagyu burgers, and next-level sushi dressed in a caviar psoriasis, and that goofy Salt Bae guy across the street doing nasty things with cow and gold leaf, Isibani is a little joy. He feeds and takes care of himself. I'll take that.
News Bites
Chef and restaurateur Terry Laybourne, a stalwart of the hospitality business in and around Newcastle and the North East for decades, has reopened his French-Italian wine bar St Vincent after a three-year break. He went out of business with the first Covid lockdown in March 2020 and while the rest of his business (and a new York restaurant) started operating again, he remained closed. The wine list will focus on small producers and will include a changing list of open bottles by the glass, alongside the now familiar menu of small and larger plates (stvincentnewcastle.co.uk).
The expansion of food halls across the UK continues with the announcement that the redevelopment of the former Queensgate Market building in Huddersfield will include one. In addition to a library and event space, there will be space for ten independent merchants around a common seating area. Work will start early next year and end in 2026.
The Smoking Lobster group of seafood restaurants on the Isle of Wight, which already has outlets in Ventnor and Cowes as well as an events group, will launch a new venture within the newly renamed Foresters Hall hotel (formerly North House) in the heart of Cowes Old Town. The Brasserie by Smoking Lobster will open its doors on April 7 and will have 80 covers plus a private dining room with 15 seats. Some of the seafood will come from the restaurant's own fishing boat, which goes out five days a week (forestershall.com).
Email Jay at jay.rayner@observer.co.uk or follow him on Twitter @jayrayner1