Named after the pot in which it is traditionally prepared, this North African stew comes in many flavors, from beef and prunes to peas and artichokes, but chicken and olives is one of the most beloved Moroccan versions. The earthenware tagine's conical shape helps keep everything deliciously moist, but luckily it can also be made in a regular pot.
Homework 15 minutes
Cook 45 minutes
It serves 4-6
2 red onions
3 garlic clovescrushed with a teaspoon of salt
Salt
½ teaspoon of saffron threads
2 small preserved lemons
2 tablespoons chopped flat leaf parsley
1 small bunch of fresh coriander
6 bone-in chicken thighs (see step 3)
3 tablespoons olive oil
2 teaspoons ground ginger
1 teaspoon cinnamon
Juice of ½ lemon
3 tablespoons purple olives (see step 6)
1 Prepare the alliums…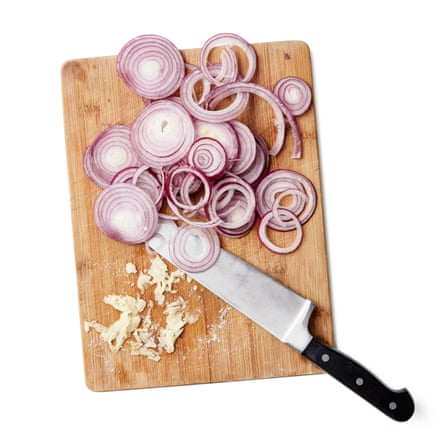 Peel and thinly slice the red onions lengthwise. Peel the garlic and crush it with half a teaspoon of salt (I do this in a mortar, but you can also do it with the flat part of a thick knife).
Put the saffron in a small bowl, cover with a little warm but not hot water and leave to infuse.
2 … and lemons and herbs
Cut the rind of the preserved lemons and cut them into thin slices.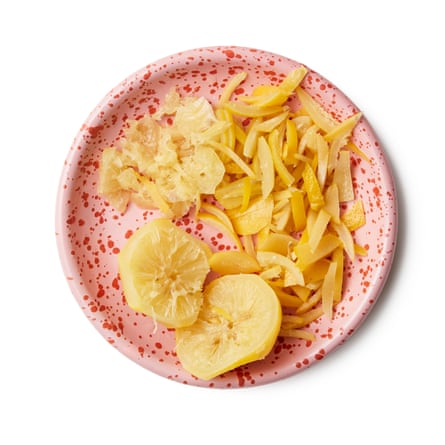 Coarsely chop the pulp of one of the preserved lemons (save the other for another purpose, unless you really like the flavor, in which case you could also use it in your tajine). Chop about two tablespoons each of the parsley and cilantro.
3 A note on chicken
I use bone-in skin-on chicken thighs in this dish (both skin and bones add flavor, but they can be removed before serving if you want to save your guests trouble), but you could use bone-in breasts, or even attach a chicken whole for that purpose, if you prefer, in which case you'll need to adjust cooking times accordingly.
4 Choose your cooking container
Place a shallow, wide-bottomed, thick-bottomed skillet (or a tajine) over low heat; if you don't have a tajine, the most important thing is to choose something with a large surface area, to evaporate the moisture, that can also be sealed tight so the moisture stays in the pan. Add the oil.
5 Start cooking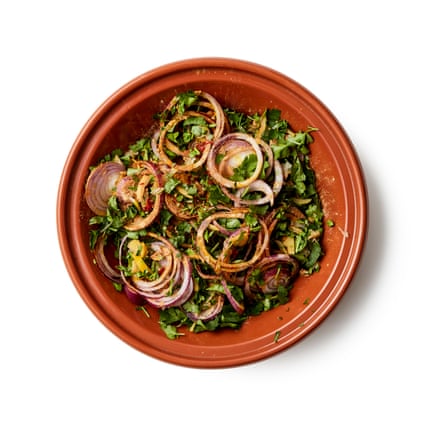 Cover the bottom of the pan with the chopped onion, then sprinkle the garlic-salt mixture on top, followed by the ginger, cinnamon and saffron and their soaking liquid. Add the chopped preserved lemon zest and pulp, lemon juice, and chopped herbs, then stir well, so all the flavors have a chance to blend.
6 Add the chicken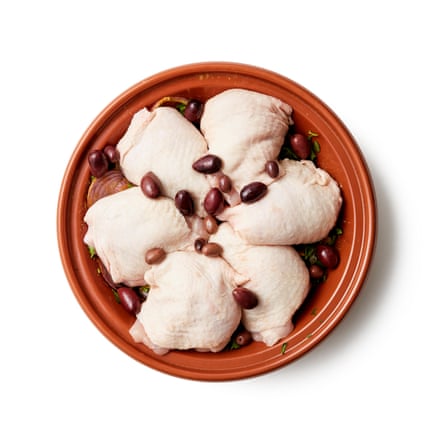 Arrange chicken on top of onion mixture, then scatter olives on top; I like the mild flavor of violets, although any type of olive will do, from mild green to salty black. The ones with the bones in always have a better texture and, I think, flavor, but again, if you want to save your guests the trouble of removing them, you can use the boneless variety.
7 Add water, then bring to a simmer
Pour 175ml of water into the saucepan, cover the lid (if it's not too tight, cover the saucepan first with a layer of aluminum foil to help keep it moist), then simmer for about 45 minutes. until chicken is cooked through (note that different cuts will take different times).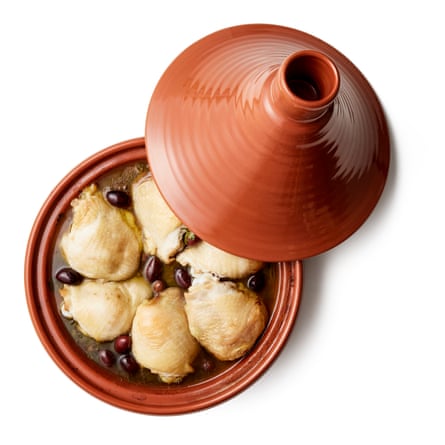 8 finishing touches
If you are going to remove the skin and/or bones from the chicken before serving it, now is the time to do so. Season the tajine to taste, checking it first, because it may not need more salt thanks to the preserved lemons and olives, which are already quite salty. Finely chop the remaining coriander and sprinkle on top.
9 Serving Suggestions
Tajines can be served with bread, often khobz, a thick, puffy flatbread, or couscous. If you want to go the latter route, you could do worse than follow the lead of Nargise Benkabbou, author of Casablanca: My Moroccan Food. On his website, he recommends putting 650g of couscous on a baking sheet, soaking in 780ml of cold water for 30 minutes, then separating the grains, adding a teaspoon of salt and two tablespoons of olive oil, covering with aluminum foil. and bake at 180C (fan 160C)/350F/gas 4 for 30 minutes.