Start the day with Nigel Slater's savory croissants or Ravneet Gill's bright blueberry pancakes. For lunch or dinner? Nigella Lawson's easy chili with cheese, Yotam Ottolenghi's perfect baked potatoes or Nathan Outlaw's frog in the hole. Your mid-week treat: Uyen Luu noodles or Amy and Emily Chung's cheap and cheerful family dal. Finish with the baked apples by Olia Hercules or the shoemaker by Lopè Ariyo. A list of recipes that almost reads like a lullaby.
A thick and creamy porridge that is a cross between a stew and a slightly brothy sticky risotto.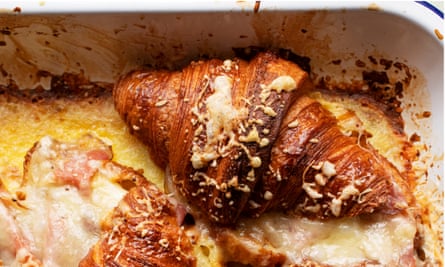 Nigel Slater's recipe for baked croissants with ham and cheese. Photograph: Jonathan Lovekin/The Observer
Croissants cooked in the style of pain perdu, filled with dark curls of speck and puddles of melted fontina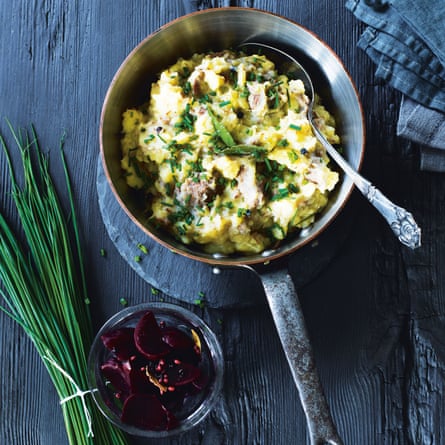 Trine Hahnemann's favorite winter stew recipe: labskovs. Photography: Colón Leth
This is classic Scandinavian comfort food, a mash cooked with meat and lots of flavor, served with chives and pickled beets.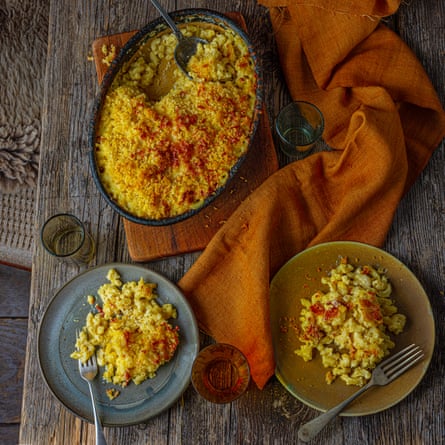 Laura Goodman's Direct Macaroni and Cheese Recipe. Photo: Romas Foord/The Observer
For a classic mac and cheese, you have to stand over a large pot of béchamel and load it personally with cheddar cheese.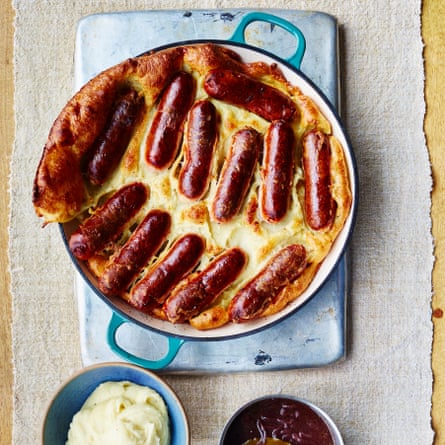 The toad in the hole recipe by Nathan Outlaw. Cinematography: David Loftus
Filled with childhood memories, the toad in the hole is simple and comforting, but don't take it out of the oven too soon.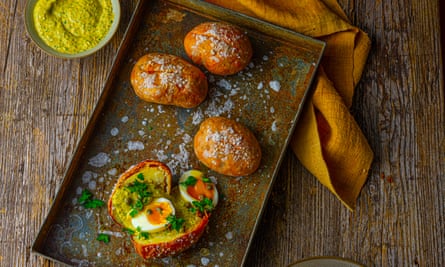 Yotam Ottolenghi roasted potatoes with egg and tonnato sauce. Photo: Romas Foord/The Observer
This brings together two of the simplest and most comforting dishes: a baked potato and a soft-boiled egg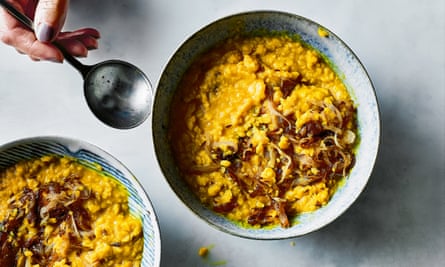 Dal – pe hin recipe by Amy Chung and Emily Chung. Photography: Martin Poole
Ideal for a weeknight meal, this dal is an easy-to-make comfort food: nutritious, filling, and inexpensive.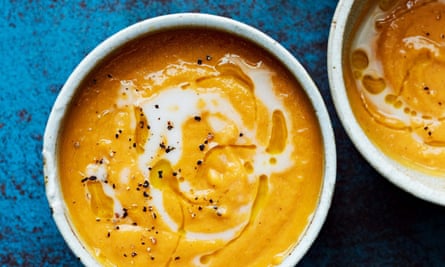 Yasmin Khan's Pumpkin Cardamom Soup Recipe. Cinematography: Matt Russell
Enriched with coconut milk and the headiness of cardamom, this soup soothes and comforts beyond measure.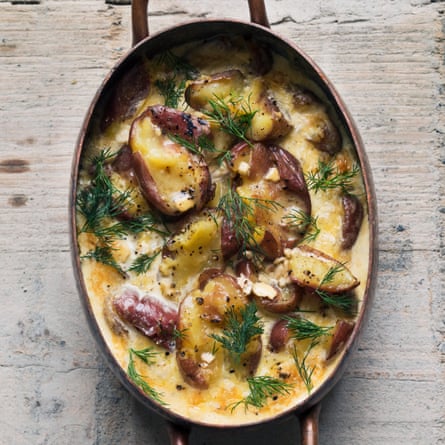 Potato, camembert and dill recipe by Nigel Slater. Photograph: Jonathan Lovekin/The Observer
A cold-weather dish, heavy with starch, cream, and cheese that takes inspiration from tartiflette.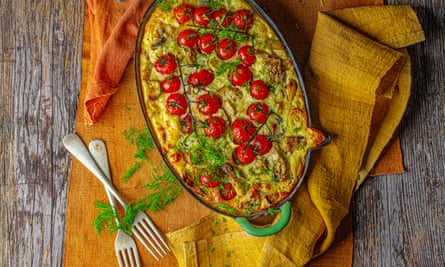 Baked cherry tomato, leeks and artichokes with feta cheese recipe from Rukmini Iyer. Photo: Romas Foord/The Observer
Think of this as a cross between a frittata, a toad in the hole, and a giant delicious savory pancake.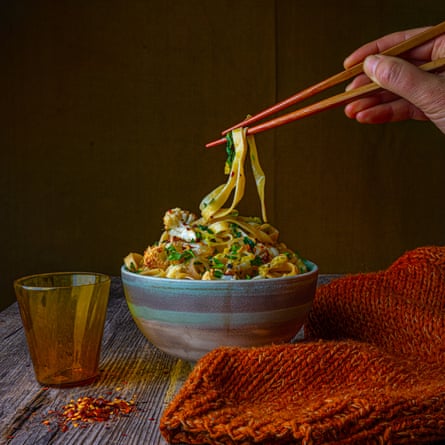 Kale Noodles, Roasted Cauliflower and Cashew Chili: mì xào chay recipe from Uyen Luu. Photo: Romas Foord/The Observer
There is something so delicious and savory about butter and fish sauce, that it makes this weeknight dinner a real treat.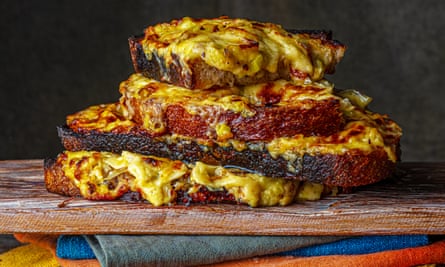 Cheddar on Toast with Emily Scott's Sweet Leeks Recipe. Photo: Romas Foord/The Observer
There is something so good about leeks and cheese together. Nothing more is really needed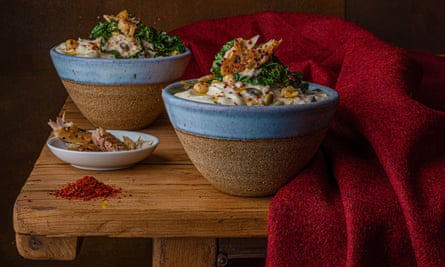 Multigrain porridge with kale, hazelnuts and smoked fish recipe by Claire Ptak. Photo: Romas Foord/The Observer
Start the day with a salty porridge that is nutritious and great for the winter. Add an egg for extra protein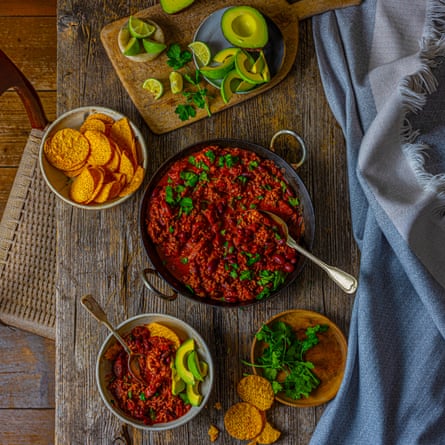 Nigella Lawson's chili con queso recipe. Photo: Romas Foord/The Observer
Chorizo ​​sausages are combined with ground beef and mozzarella to make a Tex-Mex-inspired chili bowl.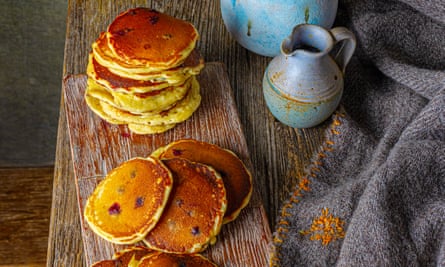 Ravneet Gill's recipe for blueberry pancakes. Photo: Romas Foord/The Observer
Perfect for a weekend breakfast, these pancakes can be made thick or thin, depending on who you're feeding.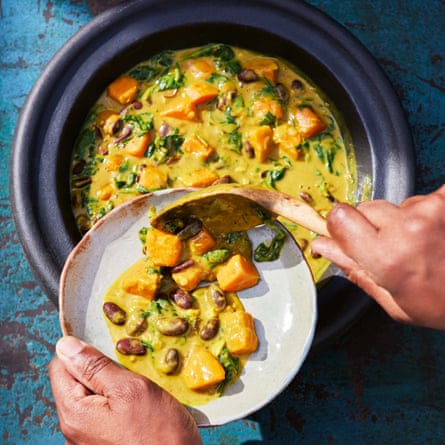 Peanut Sweet Potato Stew Recipe by Melissa Thompson. Photography: Patricia Niven
With West African and Jamaican influences, this aromatic vegetarian stew can be ready in less than half an hour.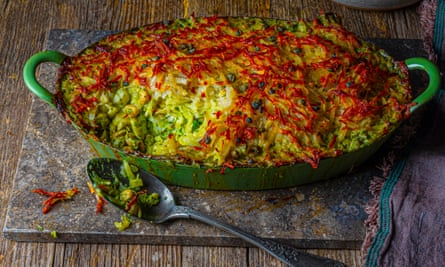 Fish Cake with Rosti Topping Recipe by Rosie Sykes. Photo: Romas Foord/The Observer
There's no need to mash potatoes or make a white sauce with this crispy fish cake.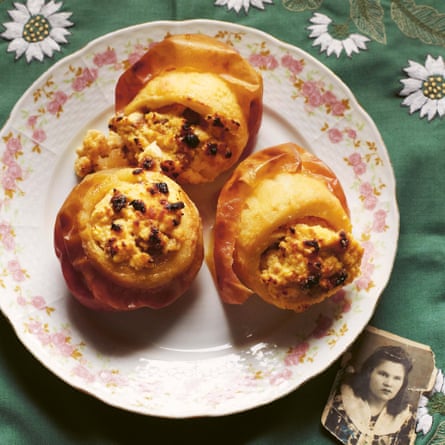 Baked apples with ricotta and raisins recipe by Olia Hercules. Cinematography: Joe Woodhouse
Bake these apples until the skin is bursting, the flesh is fluffy, and the ricotta is caramelized on top.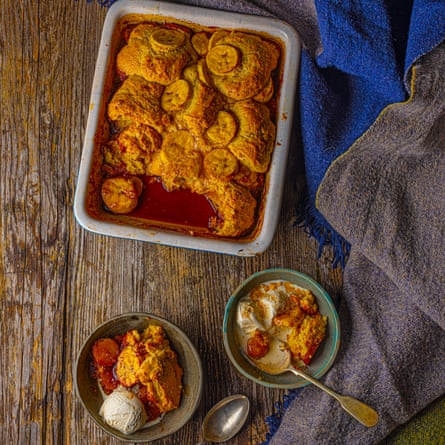 Plantain cobbler recipe from Lopè Ariyo. Photo: Romas Foord/The Observer
Like a cross between a cake and a scone, this banana pudding is drenched in a tropical syrup.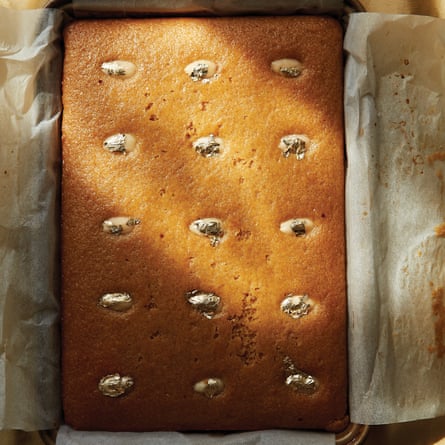 Nisha Katona's School-skive Grits Pound Cake Recipe. Photography: Yuki Sugiura
A cake that is elegant while still being warm, nutty, and utterly comforting.