"Hawthorn, we'll call it Hawthorn," said the owners of the reincarnation of The Glasshouse at Kew. It's a beautiful name, reminiscent of nearby Kew Gardens and natural bounty, though, coincidentally, it's also the exact same name as the restaurant in The Menu, Ralph Fiennes' recent horror satire about a killer chef.
We can get over this quickly though, because chef and co-owner Josh Hunter certainly doesn't want to hurt his guests. There were no deaths while I was there. It was Kew on a Saturday night, after all, and the place was packed with the kind of jolly, stylish crowd that favored the Glasshouse in the 23 years before it closed last September. The Hungry Horse at Basildon is not; we're talking three courses for £65 at dinner, eg oxtail ravioli with winter vegetable ragout and marrow crumb, followed by Ryeland hogget and forced rhubarb soufflé with ginger stem ice cream. This is good food, but not the painfully fancy kind where, by the ninth course, you find yourself staring at a bowl of fluid gels in a fizzy soup and wondering when real dinner will begin.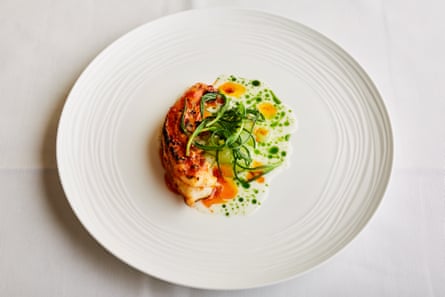 'One of the sweetest and most filling things I've eaten all year' – grilled tiger prawns with hawthorn with 'nduja butter, pickled cucumber, agretti and a buttermilk-dill dressing.
The Glasshouse stayed open for a long time because it was classy, ​​never edgy, and had more of a neighborhood vibe than a Noma one. People who loved it will also appreciate Hawthorn, because very little has changed, not even the tables and chairs. It's still a dramatically bright single room with no nooks or booths to hide in, with tables close enough to hear your neighbors' elementary school admissions problems and who's stolen the babysitter's knick-knacks.
Take that pork: some is served pink with crispy fat, and there's some spruce-smoked shoulder meat, silky Jerusalem artichoke, sweet onion petals, and a rich madeira sauce. The dish is aesthetically sublime, yes, but it also makes for a very good roast dinner. I'm still stumped as to what, exactly, Hunter did with the very good tiger prawn which came grilled in 'nduja butter and with delicate, pale pieces of pickled cucumber and a heavenly buttermilk-dill dressing, but it's one of the sweetest, filling and satiating things I've eaten all year.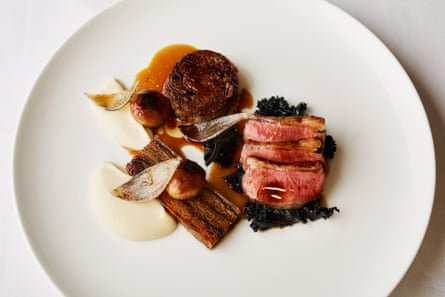 'Aesthetically sublime, but also a very good roast dinner': Hawthorn's Ryland hogget with roasted Jerusalem artichokes, white onion and madeira sauce.
Front of house is in the safe hands of the other co-owner, Patra Panas, who knows every square foot of this venue intimately, having worked at the Glasshouse for years, and there's a strong sense that she's taken the reins and changed the name to make it very much his and Hunter's, but not wanting to scare away the goodwill spun by Nigel Platts-Martin and Bruce Poole before them. This is still a restaurant ripe for special occasions with Phillipponnat champagne at £15 a glass and cultured butter served on a shiny pebble to be paired with homemade sourdough (essential for mopping up the blood orange dressing and oysters from a plate of cured scallop and sea bream with herb tempura).
The best item on the current menu is the Cornish Monkfish with Chicken Skin Butter which comes with cime di rapa and hazelnuts. It's all fishy, ​​salty, and buttery ecstasy, and it's meant to fill and calm. I also look forward to returning for the roasted shallot tarte tatin with Wigmore cheese fondue and pickled apple and walnut dressing. The ingredients are distinctly British, but made with a touch of Italian and French cuisine: the roast beef rump, for example, comes with truffled potatoes and grilled calçots, and the cod with risotto al nero di seppia (or risotto de cuttlefish ink like you and me).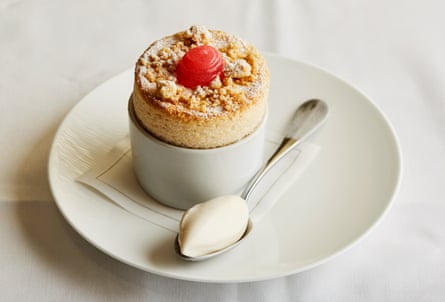 'A quivering pale pink beauty': Hawthorn rhubarb forced soufflé with gingerstem ice cream.
And, just when things seem to be getting a little pompous, there's that rhubarb soufflé and a server grabbing a scoop of the best gingerstem ice cream and delicately asking, although there's no delicate way to ask this, if you can fill in the hole. When, in my Barbara Cartland twilight years, I'm lounging in a deck chair, clutching a Chihuahua by the armpit and dictating books about my diner exploits, one tome will be devoted to "Soufflés I've Loved," and Hawthorn's pale pink , the quivering beauty will definitely get a mention. We also had some cultured yogurt with cured pineapple and mango honey, which might have been a health food if it hadn't turned up with some warm vanilla fritters.
Hawthorn is not for the fickle restaurant-hunters who want to take a selfie next to a glittering disco ball in the bathroom. It's for locals with nice things to celebrate, who want Panas to look after them like a friend and Hunter to cook them a dinner of such quality that they really don't mind if the bill is a bit thick, because every bite was worth it. Hawthorn may be the epitome of safety, but it's also probably one of the restaurants of the year.
Espino 14 Station Parade, Kew, 020-8940 6777. Open Tuesday to Saturday, Lunch 12-2:15pm, Dinner 6-9:45pm Lunch £45 for three courses (£50 Saturday), Dinner £65 for three courses, everything plus drinks and service.