"Have you heard about Ottolenghi's kitchen trick?" Says the beginning of the joke. I know that I know. For me, though, a kitchen hack is all about having something ready in the fridge—a chili paste, for example, or today's flavored butter—that can make snacks and meals extra special in no time. instant. It's also very often about raiding the fridge and cupboard: consuming spices and herbs, nuts and jars that are already open and in danger of being forgotten. Or it's about things that seem to require more work than they actually do: an uncooked pudding, for example, where the result looks far more impressive than the time it takes might suggest.
Fridge Butters (pictured above)
Flavored butters are a clever way to use up those weird jar ends that have been camping out in the fridge for far too long. Spread them on toast, put them on top of a piece of grilled fish or meat, elevate your eggs and soldiers, stuff your croissants… The opportunities are endless!
Homework 20 minutes
It serves about 4
For the lemon curd butter
80 g unsalted butterroom temperature
4 tablespoons of lemon creamalternatively use jam
¼ teaspoon urfa chilli
1 lemon; finely grated, to obtain 1 teaspoon of zest
1 teaspoon light, soft brown sugar
½ teaspoon flaked sea salt

For the chili and cumin butter
80 g unsalted butterat room temperature
2 tablespoon doubanjiang chilialternatively use harissa or your favorite chili paste
½ teaspoon toasted cumin seedscrushed in a mortar
For the green sauce butter
80 g unsalted butterat room temperature
2 tablespoons green olive tapenadealternatively use store bought pesto
1 teaspoon lemon juice
20 g of fresh herbs (I used dill and parsley), picked and finely chopped
2 anchovies in oilvery finely chopped
To make the flavored butters, put the butter and any wet ingredients (lemon curd, doubanjiang chili, olive tapenade, lemon juice) in the small bowl of a food processor and blend until smooth and paler in color. . Add the rest of the ingredients and pulse to combine, or stir by hand. Adjust salt to taste.
If using within the next few days, store in a sterilized jar in the refrigerator and allow to come to room temperature before using. Alternatively, wrap in parchment paper, roll the butter into a roll, and seal the ends very well; store it in the freezer for up to three months, until you need it.
Vegan chocolate boats with tahini caramel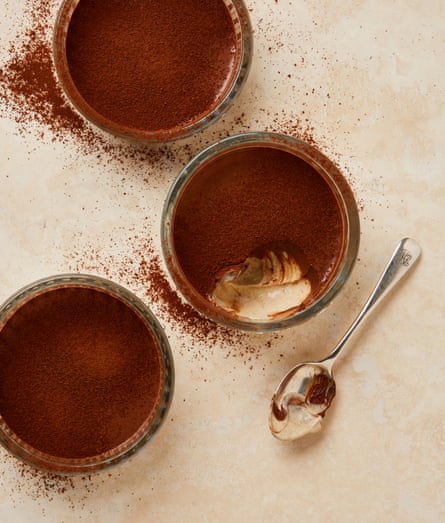 Yotam Ottolenghi's vegan tahini caramel chocolate pots. Photograph: Louise Hagger/The Guardian. Food Design: Emily Kydd. Prop Styling: Jennifer Kay. Food helper: Kristine Jakobsson.
While it may seem compact, this rich, decadent pot offers intensity and flavor. The hint of coffee adds a nice bitter note to help along the way. Almost unbelievably, this dessert is completely vegan and made with only pantry items and a blender. See if you can guess which latest supermarket dessert this dish is inspired by (hint: you can find it in the yogurt aisle).
Homework 20 minutes
Cook 10 minutes
Place 3 hoursr 30 min
It serves 6

for the candy
4 medjool dates (90g)without stones, soaked in boiling water for 20 minutes
160ml soy milk
140 g tahini
20ml maple syrup
Salt
For the chocolate ganache
120 g of dark chocolate chips (or a tile broken into small pieces)
150g silken tofu
65g maple syrup
50ml soy milk
For the coffee dusting
1 teaspoon ground coffee
½ teaspoon cocoa powder (unsweetened)
First make the caramel. Put the dates in a blender, discarding the soaking liquid. Add the remaining ingredients with a quarter teaspoon of salt and mix for 60 seconds until completely smooth, scraping down the sides as necessary. Divide among six small ramekins; this is a bit sticky, i found it easier to use a spoon and small rubber spatula. Firmly tap bottoms of ramekins onto a work surface to distribute evenly, then refrigerate to set for 30 minutes.
Next, make the chocolate ganache. Fill a small saucepan halfway with boiling water and place over medium heat. Put the chocolate in a medium heatproof bowl and place over the saucepan, stirring occasionally, until melted. Meanwhile, put the remaining ingredients in a blender with one-eighth teaspoon of salt and blend for 30 seconds until completely smooth. With the motor still running, slowly pour the melted chocolate into the blender, until fully incorporated and silky smooth. Divide among the ramekins, return to the fridge to set for at least three hours, or overnight (they'll keep in the fridge for three days, if you'd like to advance).
To serve, combine the coffee dusting ingredients in a small bowl with one-eighth teaspoon of salt, place in a strainer, and sprinkle over the chocolate boats.
Fried rice with mango pickle and crispy fried egg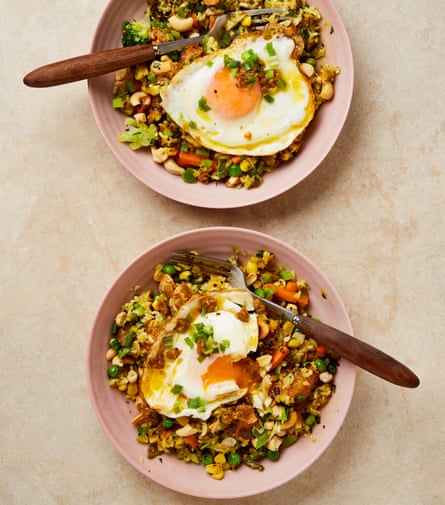 Fried rice with mango pickle and crispy fried egg from Yotam Ottolenghi.
The tangy, spicy pickle and crispy bits of rice from the long frying make this dish extra special and perfect as a weeknight meal to raid the fridge; just be sure to use the deeply salty kind and not the sweet version. Swap out the herbs and cashews for whatever herbs and nuts you have on hand.
Homework 15 minutes
Cook 15 minutes
It serves 4

90ml sunflower oilplus 2 extra tablespoons
6 garlic clovespeeled and thinly sliced
140 g mango picklevery finely chopped
500 g of precooked or leftover rice
150g chivesfinely chopped and 20 g of the reserved green parts
250g frozen mixed vegetablesthawed
Fine sea salt and black pepper
15g coriandervery finely chopped
4 eggs
60g store-bought roasted and salted cashewscoarsely chopped
First, fry the garlic. Put a large skillet over medium heat and, once hot, add 75ml of oil and the garlic. Fry for two to three minutes until lightly browned and beginning to brown. Remove with a slotted spoon and reserve on kitchen paper.
Add the pickle to the oil and cook, stirring frequently, for one minute until fragrant. Remove a tablespoon of pickle and its oil from the pan and reserve in a container with another tablespoon of fresh oil. Add the rice and scallions to the pan, stirring gently to mix, then increase the heat to medium-high and cook for 10-15 minutes, shaking the pan occasionally. Don't be tempted to stir too often, as you want the rice at the bottom of the pan to crisp up.
Add the vegetables with a quarter teaspoon of salt and a generous crack of black pepper. Cook for two to three more minutes, shaking the pan occasionally. Remove from the heat, add the cilantro and reserve.
Meanwhile, fry the eggs. Heat a medium skillet over medium-high heat with a tablespoon of oil. Once hot, break the eggs into the pan, sprinkle with a pinch of salt and a good cracking of pepper and fry for two to three minutes, until the bottoms of the whites are crisp. Separate the eggs if they are stuck together and drain on a paper towel.
Mix half of the reserved spring onion leaves, fried garlic, and cashews into the rice and place on a plate. Sprinkle the rest of the fried garlic and cashews over the rice and place the fried eggs on top. Drizzle the reserved pickle and its oil over the eggs and serve with the rest of the chive leaves scattered on top.