Some dishes fill me with a certain sense of accomplishment every time I make them, the magnificent Italian porchetta being one. Master the porchetta and the most wonderful pork roast awaits you: tender, flavorful and bound together by the crispiest of cracklings. However, like all good things, achieving this requires a delicate balance between technique and patience, although it is all worth it. So here's a porchetta feast, for when you have the gift of time and your nearest and dearest to share it with, rolled, grilled and ready for you to try.
Porchetta Stuffed with Oregano with Pickled Shallots and Herbs (pictured above)
This popular Italian import is a grooming project well worth the time and effort. Deeply flavorful pork and crisp, salty skin have the makings of a great meal, with plenty left over for delicious sandwiches. If you want, ask the butcher to cut the skin for you.
Homework 20 minutes
Rest Overnight
Cook 3 hoursr
It serves 6, with leftovers
for the filling
2½ teaspoons fennel seedstoasted
1 teaspoon black peppercorns
2 teaspoons chili flakes
6 garlic clovesbare
15g gingerpeeled and coarsely chopped
2 lemonsfinely grated zest, to obtain 4 teaspoons, and in juice, to obtain 60ml
30g oreganocollected leaves (20g)
2 tablespoons of olive oil
fine sea salt
For the pork belly
1.8 kg with skin pig belly
2 tablespoon of olive oil
60g dijon mustard
butcher's twine
For the pickled shallots and herbs
4 shallots (150 g), peeled and thinly sliced
¾ teaspoon powdered sugar
50g parsleyroughly picked and torn (35 g)
Place all of the filling ingredients except the lemon juice and oil in the small bowl of a food processor, add one and three-quarters teaspoons of salt, and blend until coarsely chopped.
Next, prepare the pork. Remove any strings, then tightly roll the shorter end of the pork over itself, so that it's like a Swiss roll – there should be no skin in the middle of the swirl, so unroll and cut off any excess skin, if required. . Lay the pork side down on a work surface and pat the skin dry with kitchen paper. Using a metal skewer, lightly prick the skin all over at ¼ cm intervals, making sure not to pierce all the way into the meat. Using a very sharp knife, carefully cut the skin lengthwise at ½ cm intervals.
Flip the pork and score the meat diagonally at 3cm intervals, making sure not to cut into the fat.
In a small bowl, mix a tablespoon of the oil with the mustard and a teaspoon of salt, rub this into the pork, then smooth the herb stuffing on top.
To roll the pork, start at the shorter end and reroll tightly like a Swiss roll. Using butcher's twine, tie the roll very tightly in the middle, then about 1cm from each end. Tie the roll six more times, for nine total ties, then place on a rack in a baking dish. Dry the skin again, then refrigerate overnight or up to two days (this helps the skin dry out and ensures it is perfectly crisp when grilling, and it also marinates the meat deeply).
Remove the pork dish from the refrigerator at least an hour before cooking, so that it is back to room temperature.
Heat oven to 170C (150C fan)/325F/gas 3. Rub the remaining tablespoon of oil and half a teaspoon of salt all over the skin, then roast for two and a half hours, turning the pan every hour for even cooking. , by which time the skin should be slightly golden.
Raise the oven to 220C (200C fan)/425F/gas 7 and ventilate the kitchen. Grill the joint for another 20-25 minutes, turning once halfway, until the skin is golden brown, bubbly in places, and crisp. Don't be alarmed by the smoke, as this is caused by the fat coming off the skin (however, if your oven emits too much smoke, remove the pork dish, set it aside for 15 minutes, then return it to the oven. the oven.
Meanwhile, make the pickled shallots. Combine lemon juice, shallots, sugar, and 3/4 teaspoon salt in a small bowl. Arrange a bunch of parsley in a small bowl and set aside the shallots and their pickling liquid.
Put the porchetta on a board, cut into 2½ cm thick slices and serve with the salad bowl on the side.
Lemon potatoes and rainbow chard with chive creme fraiche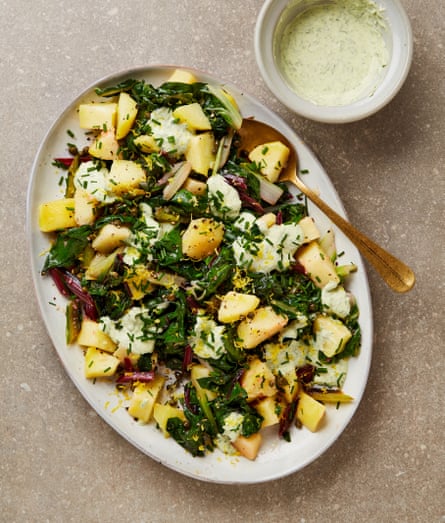 These warm lemon and chard potatoes are the perfect accompaniment to porchetta. I find them equally delicious hot or cold. If you like, swap out the chard for spinach or other hardy greens.
Homework 15 minutes
Cook 25 minutes
It serves 4
Salt
4 yukon gold or butter potatoes (600g), peeled, halved lengthwise, then cut into 2cm-wide pieces
100 g fresh cream
30g chives1 teaspoon chopped into 1/2-inch pieces and set aside, the rest coarsely chopped
1 lemonfinely grated zest, to get 2 teaspoons, and juiced, to get 2 tablespoons
2½ tablespoons olive oil
4 garlic clovespeeled and shredded
400 g rainbow chardstems cut at an angle into 2½ cm thick slices, leaves torn
40 g fine capersor the regular ones coarsely chopped
Black pepper
Bring a large skillet of well-salted water to a boil, then reduce the heat to medium, add the potatoes, and cook for 15-20 minutes, until tender but not tearing. Drain in a colander and reserve.
Meanwhile, make the fresh chive cream. Put 50g crème fraiche, the coarsely chopped spring onions, a tablespoon of lemon juice and a quarter teaspoon of salt into the small bowl of a food processor and blend until almost smooth. Pour into a bowl and fold in the rest of the crème fraiche.
Clean the potato casserole and return it to heat over medium-high heat. Add the olive oil, garlic, and chard stalks, then cook, stirring frequently to prevent sticking, for two to three minutes, until the stalks soften slightly. Add the chard leaves and half a teaspoon of salt, and cook until softened. Add the potatoes and capers, stir to heat, then remove from heat. Drizzle in the remaining tablespoon of lemon juice and sprinkle over plenty of ground black pepper.
Place the potato mixture on a plate and pour small puddles of half the crème fraiche on top. Sprinkle with the lemon zest and reserved chives, and serve with the remaining crème fraiche mixture in a bowl to the side.
Apple and Kohlrabi Salad with Porchetta Horseradish Dressing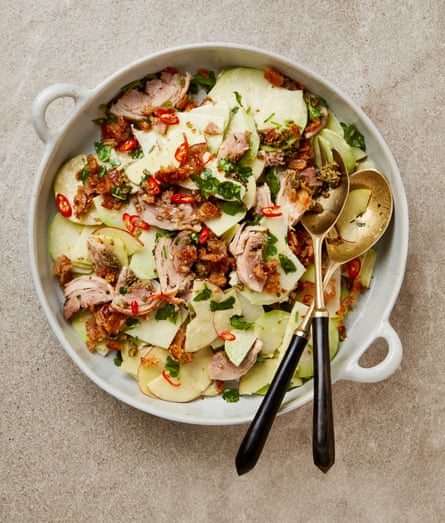 I love using porchetta as a leftover (if I'm lucky enough to have any, that is). Fragrant meat is the perfect filling for a salad. If you don't have porchetta, use slices of store-bought roast pork or roast chicken instead.
Homework 10 minutes
Cook 10 minutes
It serves 2, or 4 as a side
100g porchettathinly sliced ​​round
2 teaspoons of olive oil
10g coriander leavescoarsely chopped
1 large kohlrabi (250g), peeled, halved and cut into 1mm thick half moons
1 small braeburn apple (100g), cut into 1mm thick half moons
30 g creamed horseradish
1 teaspoon dijon mustard
1 tablespoon lemon juice
fine sea salt
1 small red chilithinly sliced ​​at an angle
Use a small, sharp knife to cut the pork rinds from the porchetta slices, then finely chop the pork rinds to make a crispy topping and set aside.
Cut each porchetta piece into three, then place them in a small bowl and stir in a teaspoon of oil and all the cilantro.
In a separate large bowl, combine the kohlrabi, apple, horseradish, dijon, and lemon juice with a quarter teaspoon of salt and the remaining teaspoon of oil.
Layer salad and pork in a shallow serving bowl, sprinkle over sliced ​​chili and crispy crumb, and serve.