Spanakopita, or spinach pie, is a Greek classic: sweet, earthy leaves and salty cheese wrapped in an incredibly crunchy layer of flaky pastry, it's just as good for breakfast as it is for lunch or dinner. Delicious hot or cold, suitable for vegetarians, and fairly cheap to make, it's my current top picnic tip. Also, of course, it makes a nice light lunch or dinner, especially with a tomato salad on the side and, if you want to make it into little triangles or cigars, instead of a big cake, it makes a top-notch appetizer. In short, if you don't already have one, you need a spanakopita recipe in your life.
spinach
In truth, although I have chosen spanakopita because spinach is more widely available than many other wild and cultivated vegetables used in similar pies in Greece, you can use any quick cooker sheet you have available – Christina Mouratoglou and Adrien Carré of London restaurant. Mazi gives a recipe in her book of the same name for hortopita, which uses nettles and cavolo nero in addition to spinach, while the Serious Eats website recommends using chard, arugula, and watercress for a more interesting flavor—treat them the same. just like the spinach in this recipe.

Christina Mouratoglou and Adrien Carré of London restaurant Mazi use nettles and cavolo nero in addition to spinach. Felicity Cloake miniatures for The Guardian.
In general, though, spanakopita recipes simply call for spinach, which, without further qualification, I assume means adult leaves, since the Greeks seem too sensible a society to have abandoned it in favor of the oppressively iron young leaves. suitable for salads (I try it in a recipe and find that it almost dissolves in the filling). Fortunately, I have several greengrocers nearby, but if you don't, frozen whole-leaf spinach turns out to be a very decent alternative: make sure you thaw it well, then drain it before adding it to the stuffing.
In fact, whatever you use, it needs to be as dry as possible before it goes anywhere near dough, so you'll need to reduce the water content. One way to do this, of course, is to wilt it with heat until it sits in a pool of its own juices, and then drain it well, an approach favored by Akis Petretzikis, Diane Kochilas, and Mazi's cookbook, but I think this runs the risk of overcooking it. Much better to do as Vefa Alexiadou recommends in Greece: The Cookbook and massaging the fresh leaves with salt instead: it's faster and the end result tastes much fresher. This also has the advantage of keeping the filling mixture relatively cool, which means you can bake it right away without worrying about the residual heat from the spinach spoiling the dough. (NB: you can skip this step with frozen leaves.)
Spanakopita from Vefa Alexiadou: massage the fresh leaves with salt.
The newspaper
This is completely optional – Lenten recipes leave it out entirely, and there are vegan versions that use tofu – but if you eat cheese, I recommend it because it's delicious. Feta is the standard choice, but some recipes also add a bit of grated kefalotiri, a harder, richer cheese that is often served fried as saganaki, though I don't think you need the extra flavor unless you have something that does. wear. . Mazi is the only cake that eschews the crumbly white stuff entirely in favor of a béchamel sauce made with Parmesan, which feels a bit thin by comparison: feta, apparently, can't be beat.
Traditionally, the filling is enriched with eggs, although Petretzikis uses cream cheese for a richer consistency, Tess Mallos uses ricotta and Sofia Souli, whose Greek Cookery And Wines is highly recommended by Jack Monroe, sticks with some evaporated milk and a good drizzle of oil as well, while Alexiadou uses regular milk and melted butter. Testers find the oil, butter, and cream cheese a little rich, and the evaporated milk a little sweet; in fact, it amazes me that, having worked so hard to squeeze the moisture out of the leaves, it's a bit counterintuitive to add more again. , with the exception of the egg, which will sit in the oven and harden the filling in the process.
the aromas
All the recipes use some form of allium: leek and spring onion for Mazi, red onion and spring onion for Kochilas, white onion for Souli, and spring onions alone for Alexiadou and Petretzikis. I like the sweetness of the red onion and leek, and the herbaceous flavor of the scallions, so as a Kouchilas, I will use both.

Sofia Souli 'sticks on a little evaporated milk and also a good splash of oil'.
Far more important, in my opinion, is a generous hand with the herbs, which sets this dish apart from the hundreds of other spinach and cheese permutations around the world. Dill is the most common choice, followed closely by mint and parsley, though Mazi also adds chervil leaves and fennel and oregano and Mediterranean spearmint from Petretzikis. Hartwort is hard to come by in a British summer, so for advice I use lovage, which gives the stuffing a very savory quality, while the chervil and fennel give it an aniseed smell, almost like ouzo. , which is more popular with the panel. However, dill is easier to come by and, along with mint for freshness and a bit of oregano for a Greek twist, should provide enough herbaceous excitement.
Petretzikis lemon zest and a good grating of nutmeg are much more interesting seasonings than the more common pepper and quite boldly I am also going to add a bit of bulgur on Kochilas's recommendation – this not only helps soak up the excess liquid, but it also gives your filling a much more interesting texture. You could use rice, or the fermented grain and milk balls known as trahana, if you're lucky enough to have some, or, in fact, skip this item entirely if you prefer.
the cupcake
Although spanakopita is typically made with phyllo in professional bakeries and restaurants, Kouchilas and Petretzikis make their own horiatiko, or village-style pastry, which is considerably thicker and tougher, but tastes better than most commercially produced phyllos. However, the tasters rebel, demanding more crispy and less integral; one even goes so far as to threaten not to help again if I leave out the crispy top. That being said, I recommend that one day you try the homemade rustic phyllo; It's not much like the other stuff, but it's pretty good.
Lastly, a piece of advice from Petretzikis: spray the dough sheets with olive oil instead of brushing them, "so they don't stick together and create air pockets between them. This makes the phyllo crunchier!" And one of mine: let the cake cool slightly or completely before serving it to enjoy it to the fullest.
perfect spanakopita
Homework 20 minutes
Cook 30 minutes
brands 6-8 pieces
1 kg of adult spinach, or frozen whole leaf spinach, thawed
Salt
2 tablespoons of olive oil
1 red onion or leekvery finely chopped
4 spring onionschopped up
300g feta cheese, fallen apart
25g dillchopped up
20g mintleaves removed and chopped
3 sprigs of oreganochopped up
50 g bulgur wheat (optional)
2 eggs, defeated
Zest of 1 lemon without wax
Nutmeg
250g filo pastry
Oil, brush
Trim spinach and wash well, then chop into large chunks. Put in a colander with a good pinch of salt, and massage until wilted (skip this step if using frozen).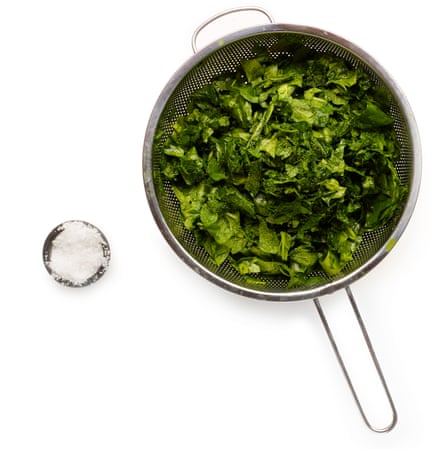 Cut, wash and chop the spinach. Photos by Dan Matthews for The Guardian.
Fry the red onion or leek in the oil until soft, then remove from the heat and add the spring onion. Pour into a large bowl with the feta, herbs, and bulgur, if using.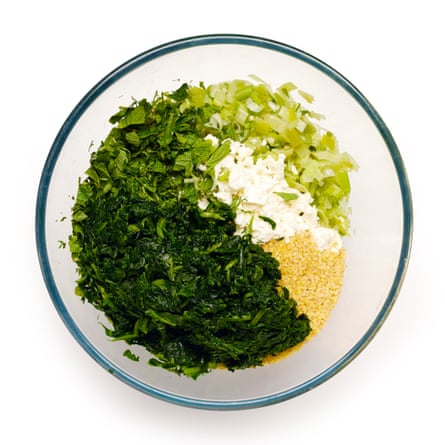 Fry the onions, then add feta, herbs, and bulgur wheat to your well-drained spinach…
Drain the spinach by handfuls until no more liquid comes out (it should look completely wilted), stir it into the cheese mixture, then add the egg, zest, a drizzle of oil, and a good grating of nutmeg and mix again (I find hands to work). best tool for this). Season lightly, remembering that feta is quite salty.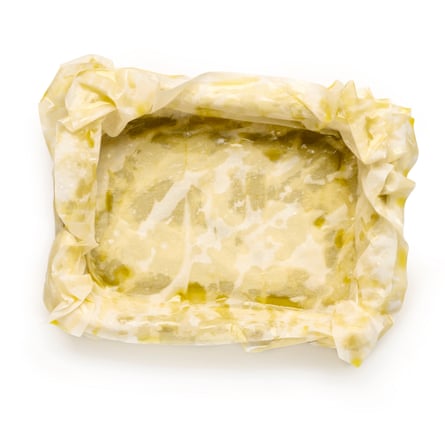 Line a baking sheet with half the phyllo: brush each sheet with oil and layer.
Heat oven to 200C/390F/gas 6. Brush a 30cm x 25cm baking dish with olive oil, then cover half the phyllo, brushing each sheet with oil as you go (a spray is helpful here , if you have one), and being careful not to pressure them in the process. Leave any excess overhanging the sides.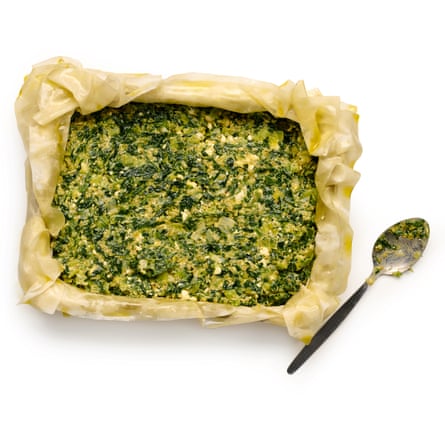 Pour the filling, fold the edges of the dough…
Pour in the filling, level the top, then put on the lid: repeat the layering process with the remaining dough. Fold the overhang inward, to make an edible edge, drizzle with more oil, and cut into desired size portions. Bake for about 30-40 minutes, until golden.
Let cool slightly before serving.
Layer more phyllo to make the top, brush with oil, then bake.
Spanakopita: a Greek god of a cake, or are there others in the pantheon who deserve to be better known? What do you put in yours and why is it so hard to get decent spinach in the UK?