Undisputed of a thousand summer lunches, the pavlova, a magnificent billowing cloud of cream, meringue and seasonal fruit, is named after the Russian ballerina Anna Pavlova, who visited Australia and New Zealand in 1926. What antipodean nation can take credit for it? ? however, it is not clear: although the combination of meringue and cream is much older than Anna itself, both countries claim the pavlova as their own.
The safest course to follow seems to be that of Helen M Leach, who, after reviewing the evidence in her book The Pavlova Cake: the Evolution of a National Dish, states that her "preferred and more diplomatic conclusion is that we are dealing with a case of convergent cultural evolution.
What is indisputable is that, whether summer arrives in December or July, or brings rambutans or raspberries, pavlova is the perfect dessert when you want to take advantage of the seasonal fruit with something a little more elaborate than Eton mess. Not the height of fashion, perhaps, but like ballet itself, it's always a treat to behold.
the meringue
It may be hidden under layers of fruit and cream, but the meringue base is what separates a decent pavlova (because, actually, it's really hard to do anything wrong with meringue and cream) from a truly great one. Although anything that involves whipping egg whites tends to strike fear into the heart of the careless cook (I'm speaking personally), meringues are, in fact, very easy to make, as long as you follow a few basic rules, all of which revolve around keep the whites as far away as possible. as possible of anything that will pop your bubbles. Separate the eggs with meticulous care to avoid the whites having even the tiniest drop of fat (or substitute already separated egg whites if you don't plan to make carbonara or custard with the leftover yolks), and use a metal spatula or spatula scrupulously. clean. glass bowl and whisk to beat them – any grease or liquid detergent will prevent them from reaching their full potential.

Bill Granger adds cream of tartar, vinegar, cornmeal, and arrowroot to underpin his meringue.
Many recipes add a bit of acid to help stabilize the foam, in the form of cream of tartar or vinegar; or starch, in the form of cornmeal or arrowroot (or all of the above, if you're Bill Granger). But as Delia Smith tartly points out, "I never do this with traditional cornmeal and vinegar, as side-by-side comparisons have revealed very little difference." She's right: her meringue, made with nothing but egg whites and sugar, is pretty perfect, while some of the starchy versions have a nasty powdery finish. However, if you're not Delia Smith like me, it's easier to get maximum volume with the help of a little cream of tartar or similar.

Delia Smith doesn't use cornmeal or vinegar, because they make "very little difference." But the currants from it work well …
The more sugar you use, the crunchier and, of course, the sweeter the end result will be. Interestingly, we found that it's possible for a meringue to be too sweet and, traditionally at least, pavlova should still have "the promise of squid" in the middle, as Nigella Lawson puts it so beautifully in her book, Forever Summer. . Most of the recipes I try use between 150 and 175g per three egg whites, with the exception of Maggie Beer, which opts for 330g, possibly because she combines it with sour fruit in this particular case. However, for a more versatile recipe, I'm going to keep the sugar content fairly low.
Yotam Ottolenghi and Helen Goh heat the meringue mixture while whipping it, more like an Italian meringue, giving it a wonderfully plump consistency, but we have no complaints about Smith's version. More important, for a truly delicious medium, is not to let it dry out completely in the oven, as you would with crispier meringues; that "calamari promise" is important; however, a fairly low temperature is still desirable, so it won't caramelize. If you want it to sit for a while, you might consider brushing the base with melted chocolate, as Ottolenghi and Goh do, to form a protective barrier between the cream and meringue.
Lawson also recommends a family tip from Australian food writer Stephanie Alexander referenced in How to Eat, which is to flip the meringue base before spreading it with cream, so that "the center of the marshmallow melts with the cream and the sides and base remain crispy. although I prefer them to look built around the edge, which of course is impossible to achieve the other way around.

Yotam Ottolelenghi and Helen Goh use a mixture of mascarpone and cream in the topping.
You can flavor the meringue with brown sugar, which Ottolenghi and Goh attribute to the "sticky, almost toffee" consistency of its base. Lawson flavors his with cocoa powder and chocolate chips, which create delicious little pockets of bitterness. But my preference is vanilla, which goes with almost everything, although here I have chosen to flavor the cream. Experiment – if you go with sugar, it will probably work. Note that a pinch of salt is always a good idea in very sweet desserts like this, but don't add it until the meringue has formed, or it will take a while to whip.
the filler
Whipped cream is, of course, the classic choice, although if you're using very sugary fruits, such as ripe raspberries, mango, lychees, or figs, I'd consider cutting it in with crème fraiche, as Beer does in other recipes; or yogurt, as in Granger's book, Best of Bill. Yes, it sounds like it could take the joy out of this gloriously indulgent dish, but in fact, the slight acidity works wonderfully to balance the sweetness of the meringue and fruit.

Nigella Lawson's Pavlova: 'embrace decadence and shave off some chocolate,' as she suggests.
Ottolenghi and Goh use a mixture of mascarpone and cream in Sweet, which gives it a firmer, richer, silkier consistency, and flavor it with almond praline, pulverized to give it a wonderful nutty caramel flavor that pairs perfectly with the cinnamon in his meringue. . Of course, it also adds to the work involved, but, as someone points out when I post an image online, "you had me at the praline cream. I mean, you could give me a bowl of that and I would happily choke to death on it."
The fruit
This, of course, will depend on what's available near you – Beer's stewed gooseberry version is a revelation to me, showing why passion fruit pavlova is so popular in its homeland. Acidity is key here as a contrast to the sweet meringue and smooth richness of the cream, which is why red currants work so well in Smith's berry selection, so whatever you choose if it's very sweet , consider mixing it with a bit of lemon. juice before adding it to the dish.
That said, not all pavlova have fruit: Nigella's version of cappuccino at Nigellissima is covered only with cocoa powder.
the dressing
For those in northern climes, the joy of fresh fruit is enough on its own to require nothing in the way of browning, but unless you're using something a bit crunchy, like passion fruit, flaked almonds or the pistachios in Ottolenghi and Goh's recipe adds textural interest. Or embrace decadence and shave some chocolate on top as Lawson suggests. After all, there is no such thing as excess when it comes to pavlova.

Maggie Beer's Braised Gooseberry Topping is "a revelation."
perfect pavlova
Homework 10 min + stew
Cook 75 minutes
It serves 6
4 egg whites
¼ teaspoon cream of tartaror ½ teaspoon lemon juice or vinegar
225g powdered sugar
1 pinch of salt
250ml whipping cream (or 350 ml if you do not use yogurt)
100ml Greek yogurt if you use sweeter fruit, otherwise use 350 ml of cream
1 teaspoon vanilla extract
500g of fruitstewed with sugar to taste, if necessary, and chilled
1 squeezed lemon juice if you use sweeter fruit
Heat the oven to 140C (120C fan)/gas 1 and line a baking sheet with parchment paper.
Beat the egg whites in a clean, dry metal or glass bowl until foamy, then add the cream of tartar and beat until soft peaks. Beat in the sugar one tablespoon at a time, until thick and satin.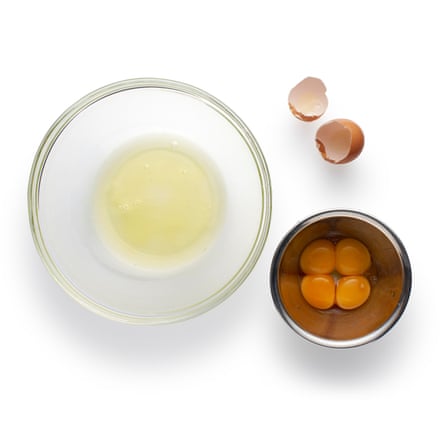 Separate the eggs and leave the whites in a shiny clean glass or metal container (plastic won't do).
Add the salt, then pour the meringue onto the baking sheet in a circle of about 9 inches.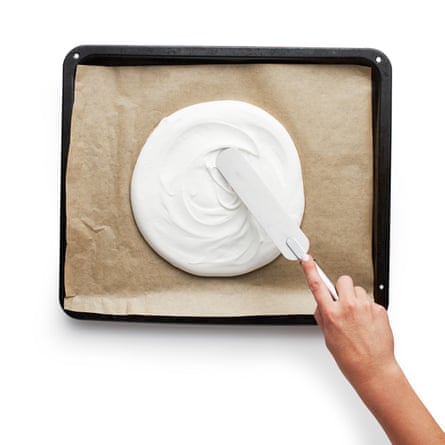 Spread the meringue evenly on a lined baking sheet and bake until crisp on the outside and (hopefully) soft in the middle.
Place the tray in the oven and immediately turn the heat down to 120C (100C fan)/low gas. Bake for 75 minutes, or until crisp on top but slightly soft in the middle when gently pierced, then turn off and allow to cool completely in the oven.
Whip cream until soft peaks, then add yogurt and vanilla, if using. Spoon over the meringue.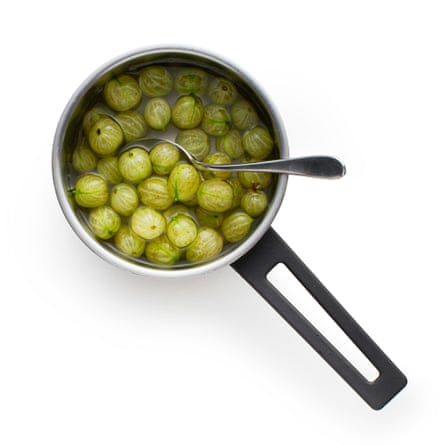 You can use raw or cooked fruit, but stewed gooseberries are 'a revelation'.
Cut the fruit into pieces if necessary and mix it with lemon juice if it is too sweet. Pile on top and serve immediately.
Pavlova: Australian or Kiwi, which is your favorite variety? Do you like them crunchy or calamari, creamy or filled with yogurt, cappuccino or chili, or are they your idea of ​​a disastrous dessert?